Ever just stood in front of an empty tack trunk, not quite sure where to start? Yep, we've seen you doing that. So here's a handy-dandy list of what SHOULD be in your show box, besides your actual tack!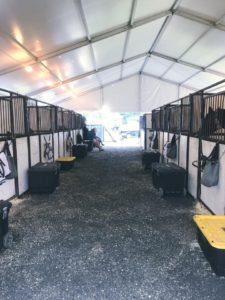 At Back Bay Farm, here is what we recommend (and request) you pack in your tack trunk at home AND your away show box.
For you:
Crop(s): it's good to have a crop for showing and a crop for schooling. Nice to have different lengths, too!
Spurs: it is best to have a nubby pair of spurs and a longer pair as well. Both should have straps that you can show in (black leather).
Extra gloves: again, you may want to have a pair for schooling and a pair for showing. Both should be black.
Extra hairnets: usually two come in a pack and we recommend having two packs! Also pack hair ties with them.
Helmet: this is an obvious one, but some people have a schooling helmet and a show helmet. Pack both!
Boot polish: this is great to have for shining up your boots right before you get on.
Rubbers: for rainy and muddy days, use rubbers to keep those boots (and feet!) clean and dry.
Rain pants: these should fit over your britches and boots!
For your Horse:
Saddle and Bridle: this goes without saying but we thought we'd say it anyway.
Ear balls (several pairs): ear balls are just something you always want to have around, like band aids or hair ties. Have a pair and have a spare.
Saddle pads: you should have extra schooling pads and extra show pads. Show pads should be large enough to show about an inch around the edge of your saddle. Schooling pads should be white or dark colors, no rhinestones or glitter, please!
Ear net/ Fly veil: in the summer there are flies! A lot of them! Help your horse be sane!
Splint boots: bring boots for schooling, please.
Polos: polos should be black and CLEAN. If you know you're going to use them for schooling and showing, bring more than one pair.
Wools: your horse's wool is for warmth: after a bath, at the ring, etc.
Scrim: scrims keep the flies and bugs off, both at the barn and at the ring.
Irish: this will help dry your horse after a bath, especially if it's cooler outside.
Sheet: for cooler days and nights, your horse will wear this in his stall or at the ring.
Standing wraps: these are used for shipping and for nighttime wrapping.
Shipping halter: it's worth investing in good shipping halters: they last forever and are much more comfortable for your horse.
Every-day halter: your horse won't wear this on the way to the show, so put it in your tack truck.
Girths: you'll need a girth for schooling and a leather one for showing.
Horse treats / cookies: last but definitely NOT least—please pack some treats for your trusty steed!
Please note:
all tack, all horse clothing, and all saddle covers should be labeled with your name. If you have questions about what nameplates to get for your tack, ask us anytime!
BBF riders should have BBF monogrammed wools and sheets for their horses or ponies. Please ask us if you need one!