Back Bay Farm is a year round hunter equitation show barn and riding school.
Robin Petersen and her husband Peter Townsend started BBF in 1994.  It is located in the charming, coastal town of Ipswich, Massachusetts.  Back Bay Farm is a Massachusetts Licensed Stable with Massachusetts Licensed Instructors.
Robin Petersen
Robin Petersen, owner and head trainer at Back Bay Farm, has been riding and competing since she was just ten years old. Robin's specialty is in Hunters and Equitation and she is a USHJA certified trainer.  She has over 40 years of experience teaching, training, and riding. Robin attended the Palock Vale Riding School in England where she received her license from the British Horse Society.  Since opening Back Bay Farm in 1994, Robin and BBF have become an integral part of the North Shore horse showing community.
Robin's unparalleled work ethic and attention to detail radiates through her accomplished students and healthy, happy horses.  She instills great horsemanship in her show and riding school clients alike, placing importance on not just blue ribbons but also care and respect for their horses. She has instructed winning combinations of horse and rider at shows such as Zone 1 Finals, MHC Finals, and NEHC Finals.  Annually, she has clients who qualify for Year End Awards for NSHA, MHC, NEHC, and USEF.   Several of her students have qualified and been invited to prestigious finals such as National Children's Medals, Ariat National Adult Medal, USEF Finals, and the ASPCA Maclay Championships.
Megan Piermarini
Megan Piermarini is Back Bay Farm's professional rider and trainer. She is a 2006 graduate of Endicott College with a B.S. in Sports Management. At Endicott, Megan was a key member of their IHSA Varsity team, qualifying for the National finals. After college Megan spent almost a decade at Windrush Farm Therapeutic Equitation as their Equine Manager.
During this time Megan was also dedicated to her very successful amateur show career, placing high both regionally and nationally. She spent years training her horse, Sirius B, bringing him from the Baby Greens to winning USHJA Horse of the Year in the Performance Hunter 3'3″ division.
At Back Bay Farm, Megan helps develop each rider's skills with an uncanny ability to combine her technique and expertise with good humor and fun. A favorite of BBF's youngest students, Megan's qualities are also apparent in her strong relationships with each student. In addition, Megan works very closely with every horse and pony at BBF, keeping them tuned at home and successful in the show ring.
Sara Hackett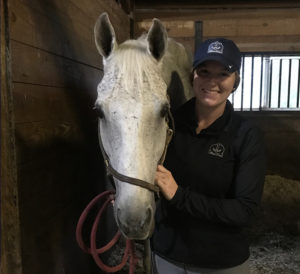 Sara Hackett is Back Bay Farm's Road Manager. She thoroughly enjoys caring for and knowing all the BBF horses so well, solving on-the-road stall configuration puzzles, and being there to cheer on the BBF team at every show.
Sara started riding at age 10 and was quickly consumed into the horse world, owning her first horse by age 14. She cared for her two horses at her home until she was 21 years old, which included everything from grooming and riding to medical and nutritional health. Sara then went to Johnson & Wales University and earned her degree in Equine Business Management.
Sara came to Back Bay Farm after working as a groom in Wellington, Florida for a private barn, also home to Lisa Wilcox and her Olympic mounts. Her experience in Florida taught her that grooms truly are essential to each barn and each horse. But it also reinforced that caring for horses makes her a part-time therapist, jump-builder, mechanic, vet, nutritionist, tool expert, personal assistant, true companion, and, last but not least, rider!